MUSTARD LINEN SAREE
SKU:
10224
Regular price
$92.97
$49.78
Save $ 43.19
/
Trusted by 10,00,000+ women 😃
---
---
Free shipping on membership orders.
Add to wishlist
Any additional service such as blouse/fall stitching that alters the original condition of the product is not eligible for return or exchange
Exchange this product for all non-members within

7 Days

Members have up to 365 days.
A mustard linen saree is a perfect traditional option for the summer season. It is lightweight and also very comfortable to wear. This saree comes with a solid mustard color, and a subtle light print along the border. The pallu of the saree has an intricate design that adds to its beauty. The saree looks great when paired with a contrasted blouse and some statement jewellery. It is great for occasions such as weddings and religious ceremonies.
TryMe™ is a revolutionary platform that helps small businesses around the world get off the ground quickly and easily. It offers access to cloud-based resources, mentorship and coaching, and a global network of advisors. With TryMe™, small businesses can quickly and easily create a business plan, secure financing, connect with potential customers, and grow their business. With TryMe™, small businesses can take control of their future and create the success they have always dreamed of.
Category : LINEN
Weight : 0.5
Occasion : Ceremonies
Blouse Type : Included
Border : TEMPLE, TEMPLE
Border Type : Temple Border
Color : Mustard Green
Fabric Type : Linen Saree
Pattern : Plain Body
Zari Type : Border
Classification : Linen from Bihar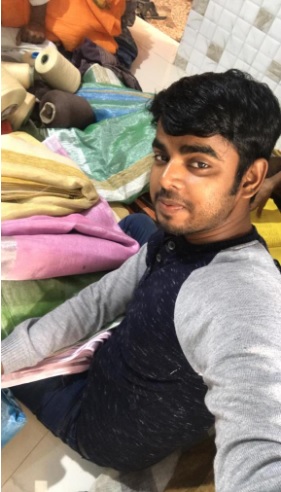 Dilshad and his family have been weaving for over 25 years. What marks him out is his unceasing love for the loom and the willingness to learn. "Thankfully there have never been any complaints about my work. Abdullah started weaving when he was 11; he learnt the technique from his father. Despite his day to day weaving activities, Dilshad graduated from bachelor's in commerce from a college near Patna. He is one among the few from his village who despite of their economic hardships have completed graduation as he felt education is far more important than anything else. When he was 20, he installed two hand looms in his house. "I used to buy the yarn and do my own designs. My saris had many takers." However, when market conditions deteriorated it hit the weavers hard. Master weavers make saris for traders and their earning depend on what the buyer fixes. Wages for weavers are not high. "Gradually I learnt what works and what doesn't in the market. I also mastered the technique with the help of the master weavers with whom I worked. Today I can make any pattern, if you show me the design, I can replicate it," says Abdullah, who takes immense pride in his work. In a world, where handloom products are on the wane, meeting a weaver like Dilshad fills you with hope. Dilshad adds, "Nearly 80 per cent of the people living in khawajangar, Puraini and Jagdishpur villages are dependent on weaving. So, there are more weavers than there is work. Today he has over thirty weavers and all of them are employed. He is constantly looking out for changes in their lifestyle and economic conditions. He When asked Dilshad about what inspires him, his response "I am inspired from the results that we have achieved over the years of working within the community. The weavers value their textile tradition and conserve it. Their weavings have considerably improved since the beginning and now even more community members as willing to be part of the weaver's associations".